Tehran Art Galleries Tours
Note: There is 20% Discount for groups of 2 people, and 30% for groups of 3 or more on all the packages.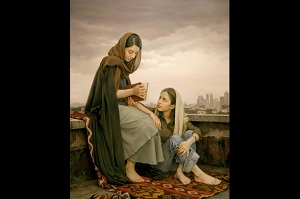 Tehran isn't only the seat of Iranian government but also its cultural and artistic beating heart. Most of art history tours and art tours in Iran are centered in Tehran. Art tourism is one of the major reasons for international traveling and most of the renown agencies include art tours in their packages. Painting tours are part of cultural tours in Iran and include visits to museums and galleries that showcase both famous Persian and Iranian art and also world masterpieces. From the indelible miniatures of old masters such as Kamāl ud-Dīn Behzād and Reza Abbasi to modern masterpieces of likes of Bahman Mohasses, Parviz Tanavoli, Aydin Aghdashloo and Abbas Kiarostami are just the tip of the iceberg in the fascinating collection of Iranian art. As to the collections of world masterpieces, Tehran Museum of Contemporary Art is proud to present priceless works of René Magritte, Claude Monet, Renoir, Diego Rivera, Camille Pissarro, Van Gogh, Lichtenstein, Joan Miró, Picasso, Kandinsky, Georges Braque, Edvard Munch, Marcel Duchamp, Jackson Pollock, Frances Bacon Edward Hopper Henry Moore, Andy Warhol and many other imperishable names of grand artists. Those interested in purchasing Iranian paintings can visit Tehran art galleries or participate in Tehran auction where the best of Persian and Iranian art is for sale. Our Tehran art gallery tour is a one-day tour in the capital that includes visits to the most important art museums and galleries in Tehran. There are a great many art galleries in Tehran amongst which the most popular are listed below: Shirin Art Gallery, Aaran Art Gallery, Azad Art Gallery, Mah Art Gallery, Seyhoun Art Gallery, Aun Iranian Art Foundation, Assar Art Gallery, Elahe Gallery, Silk Road Gallery, Etemad Gallery, Atbin Art Gallery, Ab-Anbar Gallery, Aliha Gallery, Dastan Gallery, Homa Art Gallery and Mohsen Gallery.
All The Tours From Tehran: