Iran Traditional Villages Tours
The things that the name of Iran immediately evokes are palatial domes of historic mosques in Isfahan, the ruins of Persepolis near Shiraz, the Grand Bazaar of Tabriz and the gargantuan metropolitan area of Tehran; in short, things related to big cities. But Iran has another lesser known face and that is the unsullied tranquility of its massive rural areas. Iran traditional villages tours provide visitors with a genuine experience of the Middle-East. Together with India, China and Egypt, Iran is one of the cradles of civilization and as a result a plethora of communities have formed themselves around the country since the time of antiquity. Ancient Iranian cities existed up to 5000 years BC and the remains of old civilizations such as the ancient Achaemenid Empire attract thousands of tourists to this country. Iranian village life has also a long history. Before the 20th century, most of the population of Iran lived in villages and families depended largely on farming and stockbreeding. Villages are scattered all around the country and are different according to geographical settings and also their principal production. This unrivalled diversity which is in part the result of the country's magnitude, different climates and multifarious natural formations, is the most distinctive quality of Iranian rural areas and village life, making it one of the most fascinating instances of rural civilization in the world. Now let's have a look at three prime examples of these villages: the first an oasis par excellence on the edge of a searing desert with mighty palm trees and a citadel as old as time, the second an ancient ruby in the midst of wilderness that attracts thousands of tourists every year to its centuries old red rural layout, and the third a set of hives carved in the flesh of gigantic precipices.
Garmeh Village Tour
One of the
most recurrent scenes
of all time in any film set in a desert, is a close-up of a man with a scorched face and split lips wobbling through the interminable rolling of dunes pining after a drop of water. His quest though is utterly in vain till he spots a nebulous glimmer on the horizon; palm trees encircling a pond of clear water with camels all around. He runs wildly with his last breath to immerse himself in the water but much to his chagrin, he realizes that all that is the illusion of a mirage.
Garmeh village
tour is a similar experience except that you go there in an air-conditioned off-road car with plenty of icy water and when you reach the spot on the horizon, it is not a mirage, it is real! Garmeh is a gem of a village in Isfahan Province, Iran right in the margin of the Great Salt Desert (Dasht-e Kavir) of Khur and Biabanak County. People who explore the untainted natural wonders want their journey to be completed by sharing the lifestyle experience of local people. Our
Iran tours
to Garmeh village take to a guesthouse that is just perfect for a true homestay experience. Ateshooni is a guesthouse in garmeh that offers this experience with accommodating the guests in a beautiful traditional mud brick house of more than 300 years old and with local dishes that will leave you speechless. But a tour in Garmeh village isn't all about dunes and camels. Garmeh tour also includes a visit to a 2000-year-old citadel that used to be the guardian of the Silk Road. Moreover, by travelling to Garmeh, you will have the opportunity of walking barefoot on the magical sand dunes of the world-famous Mesr desert.
Book a Garmeh Tour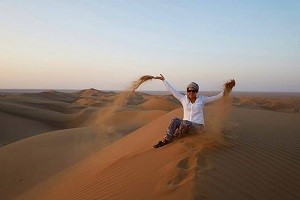 Abyaneh Red Village Tour
No body not even
the finest of writers
is able to convey the feeling that the first encounter with Abyaneh evokes in spectators' soul, this lonely abode of ancient people still red with the blood spilt when its formidable fort was conquered, bringing a budding power to the zenith of glory and causing the demise of an ancient monarchy. It is best to be an impulsive traveler when heading towards Abyaneh, just find the road and let it happen like going to a blind date, except here you are guaranteed that the date is as breathtaking and mysterious as the lovers described in the Song of Songs. So, if you want to opt for an unspoiled experience you might want to stop here and not read further but if you are one of those people who prefer to know what will happen at the end of the novel, then you are welcome to accompany us in our journey to Abyaneh (of course on the wings of words!). Although Abyaneh is a part of Isfahan Province, it is closer to
Kashan
. The freeway that links Kashan to Natanz has an extremely monotonous view around it. It is just desert and desert ad infinitum with the exception of a thorny shrub once in a while. But you will be awarded if you are patient for when you make a turn at a sign that says Abyaneh, you will enter a completely different planet. Desert climate changes with the sudden emergence of high mountains and the tedious freeway is replaced with a meandering mountainous road replete with near-U-Turns. But the first real spectacle of Abyaneh is an awe-inspiring fort on a mountain peak that dates back to more than 2000 years ago. The edifice is predictably in ruins but evinces a fortitude that echoes a mythological figure; a Titan overpowered by the Olympian gods but still retaining his glorious poise. As we go down the road gradually Abyaneh surfaces, a pearl inside a mountainous shell. There are many interesting facts about Abyaneh village. First the natives speak a language akin to Middle Persian which was spoken during the heydays of the fort, at the time of Sassanid Empire. Another fascinating aspect of Abyaneh is that the locals still wear the clothes of their ancestors specially women whose long white scarves and colorful skirts have as wide a reputation as the village itself. Thus, Abyaneh possesses an ancient history and culture. One of the perks of travelling in Iran is that you are exposed to multiple climates wherever you go and Abyaneh's weather isn't an exception. Though located on the verge of desert, Abyaneh's weather is mountainous meaning that its weather is cool and lovely in spring and summer and extremely cold during winter. As with all historic villages in Iran, renting a room for a nice homestay costs almost nothing. But if what you need is a hotel, the village has a fairly decent hotel with basic amenities and standard service. Hotel Abyaneh also includes a restaurant that serves local dishes of Abyaneh.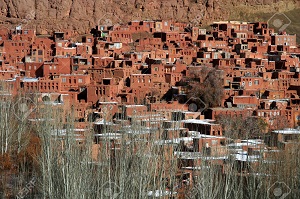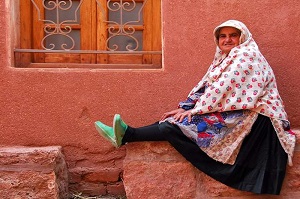 Kandovan Stone Village Tour
Tragic love is
the prevailing theme
of Iranian epics and romances. Iranian tragic heroes like their western counterparts (Orpheus, Romeo…) go through ordeals of epic scales in the name of love and their end though piteous, cleanses the heart by stoking up the flickering light of the truth. Two of the most widely cited of these characters in Iranian literature are Majnun and Farhad. The former is a young man who preferred the life of a hermit in the midst of wilderness to living amongst people who jibed at his unbounded love for Leila, and the latter, a passionate muralist who carved Mount Bisotun at the request of his beloved, Shirin and eventually painted it with his own blood. People who carved hive-formed houses in the heart of rocks in Kandovan village in Osku District,
Tabriz
are anonymous but their masterpiece will always live even after all life vanishes from the face of the earth. Since it is the reminder of a time when nature collaborated with man to create the paragon of all arts. It is in the latter sense that we understand the motto of the village: welcome to the village of Farhads. But seeing Kandovan, this joint masterpiece of nature and civilization is free of charge. You just need to come to Tabriz and drive for an hour (distance from Tabriz to Kandovan is 56km) and pass the Kandovan tunnel and reach Kandovan village in the foothills of Sahand mountains. Kandovan is a village in northwest of Iran steeped in natural history. It is carved in the heart of the rocks formed from the lava erupted from the now inactive volcanoes. There are only a few rocky villages in the world and all of them except for Kandovan village are deserted and are used solely for touristic purposes. The natural formation of the rocks and openings created by the villagers conjures up images of bee hives and it is no surprise that the main local production of the region is indeed honey. People of Tabriz and other cities around Kandovan stone village believe that the water streaming from the springs around the village have healing quality. Consequently, every year Kandovan literally quenches thousands of people with its spring water as well as metaphorically quenching their souls with its rare sights. There is no problem of accommodation in Kandovan stone village as it boasts one of the most unique hotels in the world and the only five-star hotel in Iranian villages. By lodging in Laleh Kandovan Rockey Hotel, you will be, strictly speaking, in the heart of a mountain. This amazing hotel completely carved in stone has a capacity to house 120 people. Its cozy decorated rooms combined with lovely royal suites with wooden kitchens and traditional furniture reminds one of the adorable house of Bilbo Baggins in Tolkien's The Hobbit. And finally, those who are picky about their food can relax and savor the top quality of the dishes served in the chic restaurant of Kandovan Laleh Hotel while relishing the fresh air and admiring the phenomenal view of the mountains.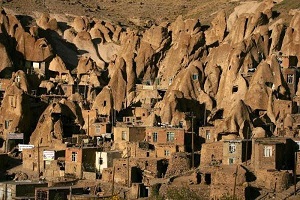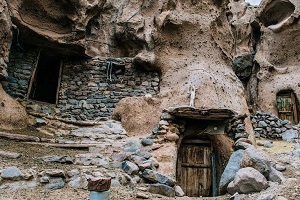 8/30/2023 2:17:54 AM