Iran Ski Tours
You don't expect to see ski fields in a country with two of the hottest deserts in the world. However, winter activities are very popular in Iran specially among the youth who make most of their short skiing holidays in winter by reveling in the great powder of Iranian skiing resorts. Among the twenty-two official ski resorts in Iran, five are more popular than others and attract thousands of people each year to their snow-white fields. Incidentally these ski resorts are all located in or around Tehran. Dizin and Shemshak ski resorts need no introduction as they are known internationally as having the best powdery snow in the Middle-East. Each year during Iran ski high season, most of the national and international competitions are held in the snow-caped summits of these wonderful resorts. This shouldn't discourage the rookies or those who want snow entertainments other than skiing. For Dizin and Shemshak (specially the former) both are equipped with facilities like cable cars and there are also many restaurants and cafes around them where people can enjoy the crisp weather while sipping a delicious hot drink. Moreover, the diversity of runs in these resorts enables skiers of different levels to enjoy a wild adventure without the risk of injury. Although Shemshak and Dizin are not far from the capital, the nearest ski resort to Tehran is the famous Tochal Complex. One of the oldest ski resorts in the country (opened in 1974), this amazing complex evokes a horde of memories for generations of Iranians who have merged their experience of the bustling car-packed streets of the capital with the serenity and perpetual whiteness of Tochal. Another superb ski resort in Tehran Province is Abali Ski Resort in Damavand District. This beautiful retreat is next to Abali, a town embedded deep within snow covered lands for most of the winter. Abali ski resort has great high runs for adrenaline junkies and other more adventurous skiers. The last of ski resorts we will discuss here is Darbandsar Ski Resort. Located in Shemshak District, this stunning small resort adds a different hue to the already mesmerizing array of ski resorts around the capital. Well now that we have provided enough alluring material for snow enthusiasts, lets tell you about our stunning ski resort tour packages. Skiing in Iran is incredibly economical. Entrance prices and other fees are negligible as compared to other similar complexes around the world. Given the exceptional height of Iran resorts, ski mountaineering could be practiced in the resorts and also in the other high peaks of Iran Alborz mountains.
Anyone visiting Iran who has tried one of our ski tours knows about the high level of service provided by our adept team of Iranian skiing tour operators. Everything is taken care of in our Iran Ski Tours packages: quality transportation and accommodation, great food and amazing leisure activities and all this for a very reasonable price. We have tours during ski high season for all the phenomenal spots listed above and our one great goal is to make absolutely sure that you have the time of your life in the powdery snow runs of Iran ski resorts. Let's take a more detailed look at our tour packages to Tehran ski resorts.
Shemshak Ski Tour
What do you expect from a pro ski resort? High snowy runs with lots of tricky slopes? A vivacious après-ski scene? A warm comfortable hotel to relax after a memorable day of skiing or snowboarding? Well then pack your bags and book one of our amazing Shemshak ski tours! Visitors to Iran are often misinformed about the diversity of leisure activities in Iran specially about the huge potential of the country for snow entertainment. Among the snow resorts in Iran, Shemshak Ski Resort is the most ideal for pro skiers. Shemshak offers great choices for skiing. Its towering runs are the highest among ski resorts in Iran and the slopes include many fascinating mogul runs. Two amazing ski slopes are fully equipped with facilities such as chair lifts. It also has plenty of other fun facilities for non-skiers including a formidably high cable car. Skiing during nighttime is really fun but also dangerous if the area isn't properly lighted. This problem is perfectly solved in Shemshak Ski Resort with great lighting facilities of the resort and the installation of reflective signs in the area. Ski high season is slightly longer in Iran compared to the similar retreats in western countries and skiers can enjoy amazing powder for about four months of a year. Contrary to many of the ski resorts in the Middle-East, Shemshak ski resort is no short of hotels and other accommodation facilities. If your budget is limited, you may enjoy lodging in the cozy Shemshak Tourist Hotel. It is a small hotel right next to the snow fields with standard service and good food. But for those of you who are looking for luxury accommodation in the midst of wild snow peaks, we are honored to present the utter magnificence of Shemshak Barin Hotel. This paragon of modern Iranian architecture is a class of its own with igloo-shaped rooms and serpentine halls. And its restaurant is simply superb with international cuisine as well as great local dishes. Unpredictability of weather is a major problem in mountainous regions. But you don't have to worry about that in Shemshak since our tour operators check the weather online before starting a tour. Although Shemshak Ski Resort isn't the biggest ski resort in Iran, you will need to take a good look at its map prior to embarking on a snow adventure. Of course, our tour operators will be available to help you with the map and lead you to your desired spots in the resort.
Book a Shemshak Ski Tour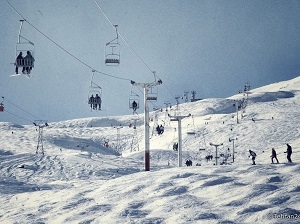 Tochal Ski Tour
Our Tochal Ski Tour is one of the most popular of our packages. Why is that you may ask? Well the answer lies in its location. The biggest perk of skiing in Tochal Ski Resort is its proximity to Tehran's urban area. It is less than fifty kilometers from the capital, making it ideal for single-day tours. If you want to ski in Tochal but don't have any equipment, don't worry since we can rent standard ski gears and equipment for an unbelievably modest price. Tochal was one of the first complexes in Iran to be completely dedicated to snow entertainments. Tochal Ski Resort is one of the favorite hangouts of the youth of Tehran. For many of Iranians specially the citizens of Tehran, Tochal is synonymous with cable cars (we call them telecabin of course). Tochal Mountain Telecabine offers one of the highest Gondola lifts in the world at 3,800 meters elevation. Compared to the western ski resorts, Tochal Telecabin is incredible price-wise. Entrance fee and renting gears are economically very reasonable. While in Tochal, even if you don't ski you can enjoy the amazing weather. The weather might be Tochal's greatest asset to attract the people of Tehran- given the pollution of the capital- especially during weekends. Alborz mountain ranges that boast some of the highest peaks of the Middle-East, provide a great space for skiing, hiking, ski mountaineering, snowboarding or simply hanging out in its stellar après-ski scene. This complete breath of fresh air revives the souls of the city dwellers and prepares them for another challenging week in the mad rush of the metropolis. Although the trip from Tochal to city center is short and convenient you might want to spend the night in Tochal. If so you may try Tochal Ski Resort Hotel. It might appear as a rather small hotel but in addition to regular rooms it offers accommodation in its fancy suites. Our ski tours to Tochal are one-day packages but we can arrange for a longer stay at you request. Other details such as reservation and transportation are the same with our other packages.
Book a Tochal Ski Tour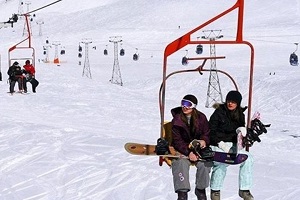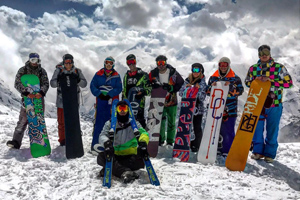 Iran Dizin Ski Tour
Among the many ski resorts in Iran, Dizin is the largest and most well-equipped ski resort and indeed the best-loved spot for ski tours. For most people in Iran skiing starts on the slopes of Dizin piste. This is because opposed to its neighbor ski resort Shemshak, Dizin is the perfect place for less competent skiers with slopes of varying difficulty where skiers can work on their skills and excel. There are also amazing amenities and facilities in Dizin such as ski-lifts, the famous Dizin Telecabins (one of the highest cable cars in the world) and places for tele-skiing. In addition to their main function as fields for snow entertainment, ski resorts in Iran are also meeting places of young people and Dizin isn't an exception. Consequently, its popularity isn't limited to the ski season and people spend many weekends in the cool mountainous weather of Dizin and enjoy its convivial nightlife. Furthermore, non-skiers enjoy other facilities such as tennis courts that are open all through the year as well as mountain biking which is immensely popular during spring and summer. Dizin ski resort was the first internationally recognized ski resort in Iran and functions as the main instruction site of Iran Ski Federation. Thousands of young skiers go through severe training courses to compete for entering Iran national ski teams. Dizin is the highest ski resort in Iran and one of the highest ski resorts in the world. For the latter reason and also Dizin's superb quality of powder, each year many national and international tournaments are held in here. Dizin Ski Resort is located in Alborz mountain ranges at an altitude of 3600 above sea level and the weather is predictably cold with a high level of precipitation. The difference between Dizin Ski Resort's top and base elevation is about 1000m. Dizin Ski Resort is huge therefore you will need at least to take a look at its map to get to know the surroundings and the exact place of your preferred slopes. There are many options for quality accommodation in Dizin Ski Resort amongst which Dizin and Gajareh hotels are the most popular. Iran ski resorts might be the cheapest snow entertainment complexes in the world. Dizin Ski Resort as the leading ski resort in Iran offers incredibly economical prices. Our Dizin Ski Tour is our most popular ski tour and therefore you should get moving and secure a place in our tour packages before it's too late!
Book a Dizin Ski Tour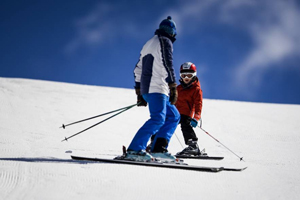 Abali Ski Tour
Abali is the oldest ski resort in Iran. The road to Abali is in itself a natural retreat. Haraz road is one of the most beautiful roads in the world (I am not exaggerating!). Its meandering mountainous road is clothed in ravishing forests with dense green foliage that simply leaves one speechless. Abali has been welcoming ski tours since 1950s and Iranians got the first experience of skiing in its steep slopes. Those who want to get a taste of those years in Abali, the skiers' simple gears and equipment, their funny sun-glasses and above all their magical smiles, can take a look at the photos taken at the time. Abali is an ideal place for skiing and other winter activities. Abali Piste has all the necessary equipment for guarantying a perfect skiing experience. These include cable cars, different slopes for Telemark Skiing and dozens of restaurants and cafes. Abali attracts thousands of people specially from Tehran to its heights and great weather. People also frequent this region for relishing the wonderful hot springs around Abali and also for visiting the holy shrines of saints. Our one-day tours to Abali is conducted regularly every winter.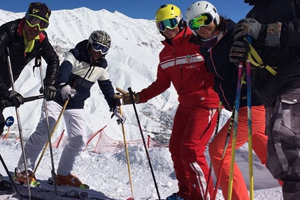 Darbandsar Ski Tour
Darbandsar Ski Resort is one of the newly founded retreats for the people of the capital and other regions around Alborz mountains. Darbandsar is an ideal skiing spot for people who value their privacy above all things and cannot stomach big crowds and noisy group tours. Darbandsar Ski Resort is another resort located in Alborz mountains and is the only resort in Tehran which is completely under private ownership. This beautiful small resort is an hour's drive from Tehran and is a favorite of pro skiers as its tricky runs provides skiers with loads of fun. Many people who want to try ski mountaineering, first try their hands in Darbandsar before aiming for more daring endeavors. Our tours to Darbandsar are best for people who seek a less crowded resort during ski high season. Darbandsar has all the facilities found in the other resorts plus places for ice climbing and cross-country skiing.
8/30/2023 2:09:47 AM