Iran Desert Tours
The golden sand dunes of Varzaneh, the hottest spot on the face of the earth in Lut Desert, great salt pans of Dasht-e Kavir. These are just some of the fascinating spectacles of the vast areas of deserts in Iran. And when we say vast we really mean it! Deserts comprise 25 per cent of the total area of Iran which adds up to one fourth of the country's land area. Semnan, Kerman, Sistan and Baluchestan, Isfahan, Yazd and Khorasan are provinces with biggest shares of Iranian deserts. If you search for Dasht-e Kavir on the map of Iran, you will get a clear picture of its magnitude. It goes without saying that such magnitude and diversity of deserts creates multiple opportunities for a wide range of tourism-related activity. To make most of this natural asset, Iran tours include desert tours as inseparable parts of their annual program. Iran desert tours offer different packages: desert safari, quad biking, sandboarding, camel riding, staying overnight in desert and desert village tours. Similar to other voyages in Iran, a desert tour is a genuine experience. You will embark on a journey into the heart of Dasht-e Kavir and Dasht-e Lut deserts and during the tour you will meet the sweet natives of Iran deserts with their sunburnt complexion and adorable little felt hats. Iranians have always revered deserts as remnants of prehistoric times when earth was inundated with infinite bodies of water and lands were merely puny marks on a smooth blue of oceans. If you find this fact beyond belief you can see it for yourself in an Iranian desert like Varzaneh where billions of tiny shells are scattered all over the dunes. An exploration of an Iranian desert could be mind-boggling and indeed dangerous if you don't have a map, GPS, a native guide and plenty of water. But if you join one of the many leading tours that take thousands of people to great salt deserts of Iran, you can just relax and enjoy your trip.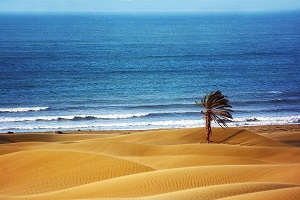 Maranjab Desert Tour
Mesr, Varzaneh and Maranjab
are the trinity of Iran deserts for tourists and
Maranjab desert
is one of the most popular spots for desert tours. The journey starts from Kashan whose proximity to Maranjab makes it a favorite base for desert tours. Maranjab desert is located to the northeast of Aran va Bidgol city which is itself to the northeast of Kashan, Isfahan Province. Maranjab desert has a weather typical of most deserts, i.e. hot during the day and cool at night. Iran boasts the largest salt lake in the Middle-East (Lake Urmia) as well as some of the most fascinating and geographically significant salt pans in the region. One of these marvelous natural wonders is Maranjab Salt Pan (also known as Maranjab Salt Lake) which renders marvelous opportunities for a number of activities including off-road trips and motorcycling. Maranjab desert, as shown on Iran deserts map, is huge with villages, salt lakes and above all a number of ancient caravansaries. One of the perks of going to Maranjab is that you can spend the night in the middle of the desert in an old caravanserai. Crossing the searing dunes of deserts has never been easy and nobody has felt this burden like the people who explored the famous Silk Road that cut right through Iranian deserts. To traverse hundreds of miles of flat lands in sizzling temperatures of days and cold nights they built amazing lodgings that came to be known as caravansaries. Literally meaning a haven for caravans, these massive buildings comprised of multiple chambers surrounding a grand courtyard with a pool in the middle. One classic example of this construction is
Maranjab Caravanserai
. Built more than 400 years ago this safe haven of the exhausted and the parched still houses the travelers. It is needless to say that one shouldn't expect the comfort and luxury of
Iran city sightseeing tours
on desert tour. It is really hot during the day and if you decide to hike in the desert when the sun is up you have to prepare yourself for the experience. For that you will need plenty of water, very light preferably white clothes and a sunscreen with high SPF. The best thing about Maranjab is its proximity to a major tourist destination i.e. Kashan. As far as our desert tours are concerned, our Iran desert tour guides pick you from your hotel in Tehran and will take you to Kashan. If what you opt for is a one- day tour, we will take you straight to Maranjab and after exploring the desert and visiting the old caravanserai you will be back to the comfort of your hotel in the late evening. However, if you intend to spend more than a day in the region, we can either arrange a night sojourn in the old caravanserai or book a hotel for you in Kashan. Despite the allure of spending the night in the desert we don't recommend staying overnight in the caravanserai to the luxury-oriented tourists since the amenities of the place are currently basic, and unless you would be prepared for sleeping in a sleeping bag and spending two days without taking a shower, it is better to spend the night in Kashan and resume the adventure the next day.
Book a Maranjab Desert Tour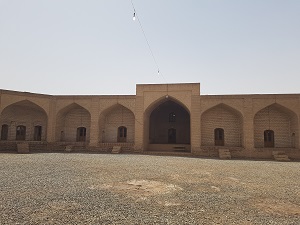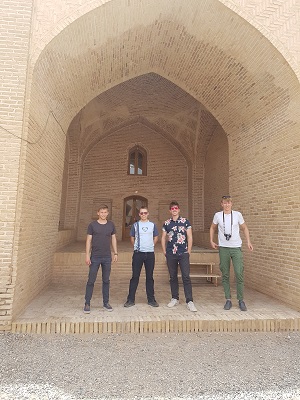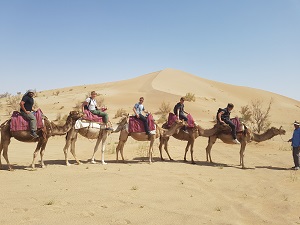 Varzaneh Desert Tour
Are you looking for the
highest dunes
in the Middle-East? Are you a fan of sandboarding and quad biking? How about a near-cinematic experience of riding a huge camel in an eternity of sands? Let's go to Varzaneh then! Varzaneh, a small town 110 km away from Isfahan, offers everything that you expect from a tip-top desert tour. The best place you could go off-road in Varzaneh is the amazing salt lake where hectares of snow white fields invite all adventurous souls to roam in their infinity. Varzaneh is also immensely popular with tours for its wonderful traditional guesthouses. Varzaneh guesthouses might not have the luxury of a hotel but they compensate for the lack of luxury with the sublimity and coziness of their local dignity, with their courtyards and their colorful roses, with little fountain pools with happy red fish and topnotch local dishes, and much more. Not only Varzenh Desert boasts the highest dunes in Iran, it also has one of the largest salt pans of the country. In addition to its high dunes and utterly ravishing sights, Varzaneh's accessibility is also an asset in its popularity. As you might have guessed, on our Varzaneh desert tours contrary to our Maranjab tours, the starting point is Isfahan instead of the capital, Tehran. Our team will meet you at your chosen residence in Isfahan (preferably a hotel or a hostel) and take you straight to Varzaneh which is a 90 minutes' drive from Isfahan. If you think that Varzaneh is all about its desert, you are wrong! After settling in a traditional hotel, we will set off our tour of the city. What is there to see you may ask. Ok let us begin with the old Jameh Mosque which is a mighty sight in the small town. Then there is the great Ghoortan Citadel, traditional houses, and a Pigeon Tower (trust me! You don't want to miss this!). The journey towards Varzaneh Desert begins a little before sunset which is the best time for taking photos and strolling barefoot on the warm sands and in the cool breeze of the desert. But don't panic! We haven't forgotten the camels! Camel rides are for the next day after a memorable night in the comfort of your guesthouse. But try to go to bed early since you have a very busy day ahead of you with lots of fun in the salt pan and yes! camel rides!
Book a Varzaneh Desert Tour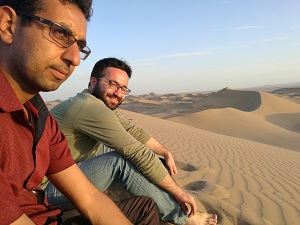 Tehran Desert Tour
It might sound odd but Tehran, the
great metropolitan capital
of Iran is one of the destinations for desert tours. In fact, there are no actual deserts in Tehran Province but only 120 km away from the capital lies one of Iran's main national parks. Kavir National Park (also known as
Khar Turan National Park
) is the natural habitat of some of the most endangered species of wildlife in Asia. Kavir National Park is in Semnan Province and stretches over 4000 km2 and reaches the western edge of Dasht-e Kavir. The stunning diversity of wild life and natural environment of Kavir National Park makes a favorite destination of tours. The park is also known with a very resonating nickname: "Little Africa". The reason for this odd nomination becomes clear when one sets foot in the park. The perpetual flatness of the region with its steppe-like characteristics and the incredible diversity of wildlife immediately conjures up images of Africa in one's mind. Right at the heart of the park there appears another natural oddity; a large body of dark rocks that look like a group of muscular limbs. This is Siahkuh (literally, black mountain), a natural haven for some of the most fascinating and endangered wild species in Asia. As well as a considerable population of herbivorous mammals such as Persian zebras, gazelles, onagers and goats and birds including flamingoes and shelducks, Little Africa is famous around the globe as one of the few extant habitats of great Asian carnivores, Asiatic cheetah and Persian leopards. But there is much more to Kavir National Park than wildlife. One of the oldest caravansaries of Safavid era is located at the foot of Siahkuh. Qasr-e Bahram Caravanserai is a classic example of a desert caravanserai, with interconnected chambers facing a grand courtyard with a rectangular pool in the middle. There is another reason beside wildlife and steppes of Kavir National Park that is reminiscent of Africa and that is the climate. Average precipitation is one of the lowest in the country and as a result, droughts are common features of the region. And finally, the Park is close to one of the largest salt pans in Iran, Namak Lake.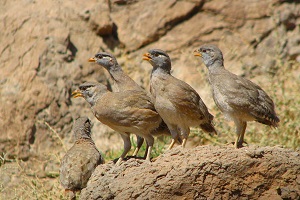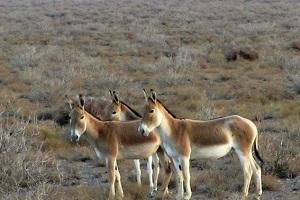 Yazd Desert Tour
Yazd is the first Iranian city
inscribed in UNESCO World Heritage
List. But the wonderful thing about Yazd is that besides its majestic traditional urban area, it is one of the cities bordering the Great Salt Desert (Dasht-e Kavir). Yazd, Kashan and Isfahan are three cities that any desert tour passes by to reach its destination. Among the deserts near Yazd, Bafgh is the best. A 90 minutes' drive from Yazd, you will reach Bafgh desert where great things await you and your tour members: camel riding, desert trekking and getting warm around a camp fire and savoring delicious local dishes and drinks. In spite of its distance from the capital, Yazd desert tours are very reasonable price-wise. Yazd hotels are some of the most outstanding features of the city. Anyone who has come to Yazd knows about the spectacular old buildings with unique architecture and their famous wind catchers (badgir). But the real deal would be to spend a night or two under those sublime mud brick roofs and having a nocturnal stroll among the roses in the soulful yards of these wonders of Iranian artistry. Our Yazd desert tour provides this opportunity and much more! The package is for two days and one night. Our professional
Iran tour operators
pick you up from your hotel in Yazd and you will head towards Garmeh village (the definition of an oasis village!) in Khur Biabanak County, Isfahan Province. The trip is a three and half hours' drive from Yazd, so you will need a short respite before setting out for the desert. And no place is better than Ateshooni guesthouse in Garmeh for settling in, having a delicious meal and spending the night. In addition to its fabulous guesthouse, Garmeh village has another popular spot and that is the village's ancient citadel dating back to 2000 years ago. After visiting the citadel, the tour will be dedicated to exploring the deserts around Garmeh, but you should wait for the second day of the tour for that. For the time being you will have a delicious meal and a great evening in Ateshooni enjoying the traditional architecture of the house and preparing yourself for experiencing a great homestay under the house's mudbrick arches. The journey towards the magical Mesr desert will begin the next morning. You will have plenty of time to walk up and down the interminable sand dunes and If requested we can hire camels to further enrich the experience of the desert. We will return to Yazd at the end of the day carrying with us the great memories of Mesr desert and its amazing oasis village.
Book a Yazd Desert Tour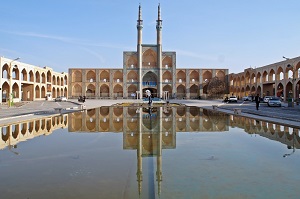 8/30/2023 2:03:13 AM