Kashan Day Tours
Note: There is 20% Discount for groups of 2 people, and 30% for groups of 3 or more on all the packages.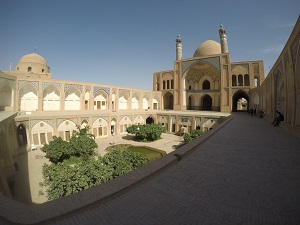 Kashan
is located about 250 km away from Tehran and 220 km from Isfahan (you will find Kashan
right between Isfahan and Tehran
on the map of Iran) and as a result is a favorite spot for travelers on the way from Tehran to Isfahan and vice versa. Along with Yazd, Kashan is one of the
Iranian cities
that has retained its old superior look. That is why Kashan's place in
Iran city tours
is forever secured. Our
Kashan day tours
are predictably one-day packages fashioned in a way to make a comprehensive tour of the city within a single day. Kashan welcomes thousands of tourists every year and specially during the rose water season with its many attractions. Kashan is Iran's capital of flowers. Each year during a festive ceremony the extraction of rose water begins symbolically by the attendance of near a million people in Kashan. Kashan, this gem of central Iran has a wide array of points of interest for travelers. So, there are lots of ways for addressing the question of "what to see in kashan?" Among dozens of fascinating historic sites in Kashan
Fin Garden
, Tabatabaei House, Bazaar of Kashan, Agha Bozorg Mosque, Sultan Amir Ahmad Bathhouse and the shrine of Shahzadeh Ibrahim are probably the best known. As with all people living in the vicinity of
deserts in Iran
, Kashan's people are as warm and humble of the dunes and they welcome the visitors with great accommodation facilities of the city. Some of Kashan's greatest lodging centers are in the form of houses with traditional
Iranian architecture
turned into hotels. They are mostly placed in the city center near the most visited sightseeing destinations. Kashan also allows easy access to the amazing historic village of Abyaneh, the great underground city of Nushabad and the famous
Maranjab Desert
, themselves major tourist attractions.