Varzaneh Desert Tours
Note: There is 20% Discount for groups of 2 people, and 30% for groups of 3 or more on all the packages.
Isfahan - Varzaneh - Yazd/Isfahan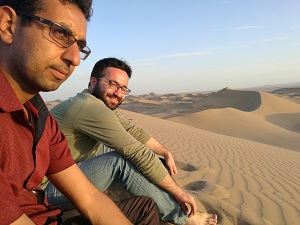 Varzaneh
is located in Isfahan Province and is one of Iran's oasis towns. Despite the remoteness of this land of sand dunes, there are lots of marvelous sights. These include the vast snow-white Varzaneh Salt Lake, the unique structures known as pigeon towers and the fabulous camel mill along with visits to historical sites. Our
Varzaneh desert tours
are two days packages covering all the costs of the trip including accommodation, meals and transportation. We embark on our desert adventure from the enchanting city of Isfahan. We will drive for about 90 minutes and reach Varzaneh where everything from the traditional architecture to the sunburnt complexion of the people evoke the imagery of deserts. A great thing about Varzaneh is its traditional hotels or more appropriately
Varzaneh guesthouses
. Once you are in Varzaneh, we will take you to one of these amazing traditional guesthouses where you will take a short respite beside the little fountain pool of the guesthouse before going on a sightseeing tour of the town. You will visit the historical Jameh Mosque of Varzaneh, the Camel Mill, the Pigeon Tower, and Yusefi Traditional House. We will take you to Varzaneh desert immediately after the sightseeing tour because we don't want you to miss the surreal blend of colors over the boundless desert sky as the sun slowly sets behind the immutable golden dunes. After having a delicious dinner back in the guesthouse and a tasty cup of herbal tea, you will have a tight sleep and prepare for the next day. Varzaneh is unique among
Iranian deserts
due to the matchless height of its dunes. Hiking amid these marvelous natural sights feels like being in a biblical story where miracles are imminent and God speaks through thorn bushes. We will also take you to the famous Salt Lake of Varzaneh where hectares of powdery salt have created a striking grand whiteness amidst the interminable sands. In the end of the tour, you'll have the options to ask the guide to take you to
Yazd
, or back to Isfahan.
All The Tours From Isfahan