Alamut Castle Tours
Note: There is 20% Discount for groups of 2 people, and 30% for groups of 3 or more on all the packages.
Tehran - Alamut - Tehran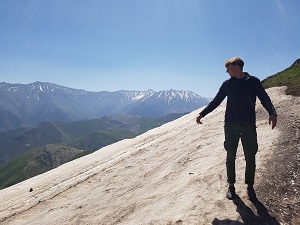 The trip to
Alamut
takes about four hours from Tehran. Alamut is located in Qazvin Province, a mysterious region of multifaceted and unique natural marvels. A number of historical castles built high on the formidable mountains of Alborz Mountain Range, charming little purely
Persian villages
located in the green fields of Alamut Valley and hundreds of hectares of open plateau have made
Alamut off-road tour
one of our most popular
Iran off-raod tours
. The most significant and well-known aspect of Alamut is undoubtedly its historic castles built on the lofty cliffs. Alamut functioned as the headquarters of the famous Assassins (The Hashashin). As well as producing the most consummate shadow assassins of the age,
Alamut castles
were also the major institutes for scientific and astrological research. Equipped with one of the largest libraries in the world, Alamut castles were visited by Iranian and also foreign men of letter and science who admired the castles and held their occupants in high esteem in their numerous memoirs and chronicles. Alamut and its famous castles came into spotlight after the publication of the book Alamut by Vladimir Bartol; a fictive account of the deeds of Hassan-i Sabbah and his followers in a number of heavily fortified castles. Interest in Alamut has been recently revived after the introduction of two Ubisoft games, Prince of Persia and Assassins' Creed in which Alamut is represented either as the ancient city of Alamut (utterly fictive) or simply as
Alamut Castle
, a fortress in Iran (more accurate). Our Alamut Off-Road Tour is a one-day package but includes the best of Alamut. And you can enjoy all this while sitting in an air-conditioned reliable off-road car accompanied by a tour guide who speaks good English and knows all about Alamut and its great past (even some creepy grandma stories about the Assassins!).
All The Tours From Tehran: