Dizin Ski Tours
Note: There is 20% Discount for groups of 2 people, and 30% for groups of 3 or more on all the packages.
Tehran - Dizin - Tehran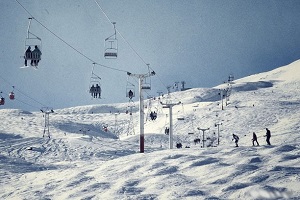 Disin Ski Resort
is located in Alborz Province in Iran, around 120 km away from the capital.
Iran ski resorts
are some of the cheapest winter resorts in the world and are ideal for those who cannot afford the exorbitant costs of the European resorts. Dizin Ski Resort offers great snow entertainment facilities that costs almost nothing compared to western resorts prices. Among our Iran winter tours,
Dizin Ski Tour
is the most popular. Dizin Ski Resort welcomes thousands of skiers from all over the world to its heights. There are various reasons for this popularity. First of all, Dizin is the largest ski resort in Iran. The second reason is related to the technical aspects of the resort. Dizin ski resort maintains the quality of its great powdery snow well even in early spring when the weather starts getting warmer. This latter feature is a key factor in Dizin's popularity considering the unquenchable fervor of skiers for snow entertainment even after the cold seasons are about to end. Dizin ski resort includes two hotels that welcome the weary skiers with warm beds and delicious meals.
Dizin Hotel
is the bigger and better equipped of the two that includes a nice café and also a restaurant. The second choice that you may opt for is
Gajereh Hotel
which is a small hotel with good service and very reasonable prices. Economy trips are the preferred way of traveling for many people and
Seven Hostel is Dizin
is the place where you will find a great cozy atmosphere for a negligible price. Those who desire to opt for a hostel can book a room in Dizin's Seven Hostel online. Given the enormity of Dizin ski resort it might be a good idea to take a look at the map of the resort for getting a clearer picture of the surrounding. Our
Iranian private tour guides
will help you with the map and any other services you might require.
All The Tours From Tehran: