Tochal Ski Tours
Note: There is 20% Discount for groups of 2 people, and 30% for groups of 3 or more on all the packages.
Tehran - Tochal - Tehran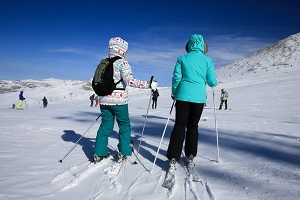 Tochal ski resort
is located in Tehran Province right to the north of the capital city.
Skiing in Iran
is ideal for people who seek cheap ski resorts with a perfect powdery snow. The entrance fees and prices for renting skiing gears are truly negligible compared to the dear costs of western resorts. Tochal, Shemshak and Dizin are the most popular ski resorts in and around Tehran. Dizin is larger and better-equipped than the other two. But generally speaking, most of pro-skiers in Iran choose either Shemshak or Dizin ski resort as their field of adventure because these amazing resorts boast some of the highest runs (some of them are mogul runs) in Iran. Other snow entertainment facilities are also provided for non-skiers and people who come to the resort to hang out with their friends and enjoy the fresh weather of the mountains. Tochal telecabin (also known as gondola lift and cable cars), one of the highest in the world, is very popular specially among people from Tehran whose childhood memories are filled with sparkling images of Tochal and its nostalgic telecabin. Tochal Telecabin is also a favorite of foreign tourists for its great length and really low price. Tochal complex provides the weary skiers with a memorable stay in the comfort of a fabulous wooden abode. Sipping a hot beverage in Tochal Hotel after a great day in the bosom of snow-capped mountains while admiring a phenomenal view of Alborz mountains will prepare you for a new quest in the meandering runs of Tochal. Delicious meals are provided in the restaurants and cafes in or around the resort. Given the erratic weather of mountainous regions (Tochal ski resort included), you should check the latest weather forecast before booking a tour. Our
Tochal ski tours
take one, two, or three days depending on the tourists' desire.
All The Tours From Tehran: